All of these things are on the list of my top Trader Joe's favorites – combination of snacks, frozen foods, fresh items, and staples. Great variety of items from the popular grocery store!
Almost a year ago, Noah and I discovered the amazingness that is Trader Joe's. If you've never been, it's a fun grocery store that is full of unique treats. Most of the things that Trader Joe's is famous for are store-brand items that you can't really get anywhere else! And, while you would think this would be an expensive place, the prices are incredibly competitive (and cheaper in many cases). It has quickly become my favorite grocery store to visit.
Like most people that have been, we have fallen in love with a few items that they carry. The nearest store to us is about 2 hours away (in New Orleans), so every time we make a day trip we stock up now! Here area few of our must-haves for each trip:
(Affiliate links used in this post – I know many people aren't close to a Trader Joe's, so I'm sharing where you can get the non-perishable items online! Just know that the prices online are often a good bit more expensive than what you can find in-store, so if you have one close to you, I'd definitely go in rather than trying to order online.)
Trader Joe's Favorites
Triple Ginger Snaps – These little cookies are so addictive. They have just the right amount of spice and sweetness and are absolutely perfect with Cookie Butter (see below). My favorite thing about them is the little pieces of crystalized ginger baked into the cookies – it gives them just a teeny bit of chewiness and has such an amazing flavor!
Don't have a Trader Joe's? Grab Triple Ginger Snaps on Amazon here.
Speculoos Cookie Butter – By far, no question my favorite thing at Trader Joe's. It's basically just cookies that are blended with oil, which makes kind of a peanut butter consistency. It is soooo addictive. If you give me a jar of this and a pack of Ginger Snaps, chances are I'll polish them off in an hour. One of my favorite cheat day snacks! (I like both the creamy and crunchy kind…wasn't a huge fan of the cocoa swirl kind. It was a little too Nutella-y and a not enough cookie butter.) I even have a cookie butter pie recipe available here!
If you don't have a local Trader Joe's, you can grab Speculoos Cookie Butter on Amazon here.
Goddess Dressing – This is a creamy salad dressing that has a little bit of a kick, kind of similar to Ceasar Dressing (but a little more mellow). It is great as a dressing or a dip for veggies.
If you don't have a local Trader Joe's, you can grab Goddess Dressing on Amazon here.

Light Champagne Vinaigrette – You would never know that this dressing is a light version! It has tons of flavor and just a little bit of brightness to it. Perfect if you have a boring salad that you want to give a little bit of pep!
Baconesque White Cheddar Popcorn – At first, I was a little unsure of how bacon-flavored popcorn would taste. It seems like it would have a really fake flavor, but this tastes about as close to the real deal as you can imagine! It has a really smoky bacon flavor that goes so well with the cheddar. This one never survives very long once we make our Trader Joe's run…definitely a favorite snack on this list!
Sea Salt & Turbinado Sugar Chocolate Almonds – Ok, I'm not a huge almond fan normally, but I think you could put this coating on just about anything and make it taste amazing. If you like salty/sweet combos, this is the perfect treat for you!
If you don't have a local Trader Joe's, you can grab Sea Salt & Turbinado Sugar Chocolate Almonds on Amazon here.
Joe's Diner Mac and Cheese – There isn't a picture/site on Trader Joe's website for this one, which is so weird because it's one of their bigger sellers. It is the most incredible mac and cheese ever! So creamy, with the perfect little bite of cheese in it. The best part is it microwaves in just a few minutes and is a great last-minute side dish.
Spicy Chai Tea Latte Mix – If you love any kind of tea lattes, you've got to try this out. So spicy and perfect for a winter day! I'll give an honorable mention to the Matcha Green Tea Latte too…it's another fantastic mix.
Hummus – Like, any of the hummus varieties they have. I chose the Sriracha for this picture because it's my favorite, but I really haven't had any of their hummus that I didn't love. The Cilantro and Jalapeño, Tomato and Basil, and Horseradish varieties are amazing. And, if you want to try a few, pick up the Hummus Quartet! (And added bonus: it's so cheap!)
Coconut Oil Cooking Spray – We've recently started using this in place of traditional Canola Oil Spray and have been so impressed. If you're worried that you'll taste coconut in your food, don't be – Noah hates coconut and he hasn't complained about tasting it once.
Crispy Crunchy Okra – This is another one that isn't on Trader Joe's site, and I don't know why – it is the most underrated thing in the whole store. Noah and I are both obsessed with these. They are little crunchy pieces of okra, kind of prepared like potato chips. If you love fried okra, this is a slightly better-for-you alternative! This is another snack that doesn't last long at all in our house. (They have a broccoli variety too, it's ok…but doesn't hold a candle to these.)
If you don't have a local Trader Joe's, you can grab Crispy Crunchy Okra on Amazon here.
Chimichurri Rice – I am a big fan of several of the frozen rices at Trader Joe's (the chicken fried rice is amazing), but this is the king of them all. It's a Peruvian variety that has lots of cilantro, tomato, and lime flavor, with several other veggies mixed in. It's a perfect side dish for a latin or Mexican dinner!
Mandarin Orange Chicken – You'll hear about this one on all of the Trader Joe's round-ups, with reason…it is incredible. It's super easy to prepare and tastes like you worked in the kitchen all day. I love it with their chicken fried rice!
Gyoza and Gyoza Sauce – If you ask Emmie what her favorite food is, she'll tell you "potstickers!" It's because of these gyoza. They have several different varieties, we've tried the pork and shrimp and they are both amazing. If you like fresher flavors, go with the shrimp! And there's also a Gyoza sauce that I think I could drink. It's so good on any kind of Asian food…kind of like a soy/teryaki sauce, but thicker and with kind of a twang to it.
If you don't have a local Trader Joe's, you can grab Gyoza Sauce on Amazon here.
Spring Rolls – These are about as good as you can get in the frozen variety. They're really easy to prep and are super crunchy.
Greek Kalamata EVOO – For the price, you're absolutely not going to find a better quality olive oil. It has such incredible flavor…I use it in all of our dressings and marinades now. I've had this bottle for months now and have barely put a dent in it (and I use it a lot)!
If you don't have a local Trader Joe's, you can grab Greek Kalamata EVOO on Amazon here.
Charles Shaw Wine – Good ol' three buck chuck. This wine is famous at Trader Joe's because it's actually drinkable and only costs $2.99!
Cheese – There are SO many different types of cheese I love at Trader Joe's. The Unexpected Cheddar pictured above is probably my favorite – it's kind of like cheddar cheese and parmesan cheese had a baby. Really crumbly and has tons of flavor. I also love their Pesto Gouda, their Goat Cheese Crottins variety pack, the Caramelized Onion Cheddar, and their Bacon Cheddar. Man, I could use a cheese plate right now! ?
Dunkers – These are little cookies that are just how they sound…perfect for dunking in coffee or milk! I have the chocolate chips ones pictured, but my favorite really is the cranberry oatmeal dunkers (not sure if these are seasonal). They're drizzled with white chocolate and amazing with a cup of coffee!
If you don't have a local Trader Joe's, you can grab Oatmeal Cranberry Dunkers on Amazon here.
Reduced Guilt Guacamole – If you're a guacamole fan, definitely give this a try…it's a lower-calorie alternative to traditional guacamole that's made with Greek yogurt so it still gives you that rich, creamy taste! I absolutely loved this dip.
Gone Bananas – This has become one of Emmie's favorite treats. They are little frozen banana sliced covered in chocolate. I don't know how they give them more banana flavor than normal, but they do! This is one of those "can't eat just one" things.
And now I need to schedule a New Orleans trip ASAP. 😉 This post made me hungry!
Any other Trader Joe's favorites I'm missing? Leave them in the comments!

(All images courtesy of and belong to Trader Joe's.)
Image from previous version of this post: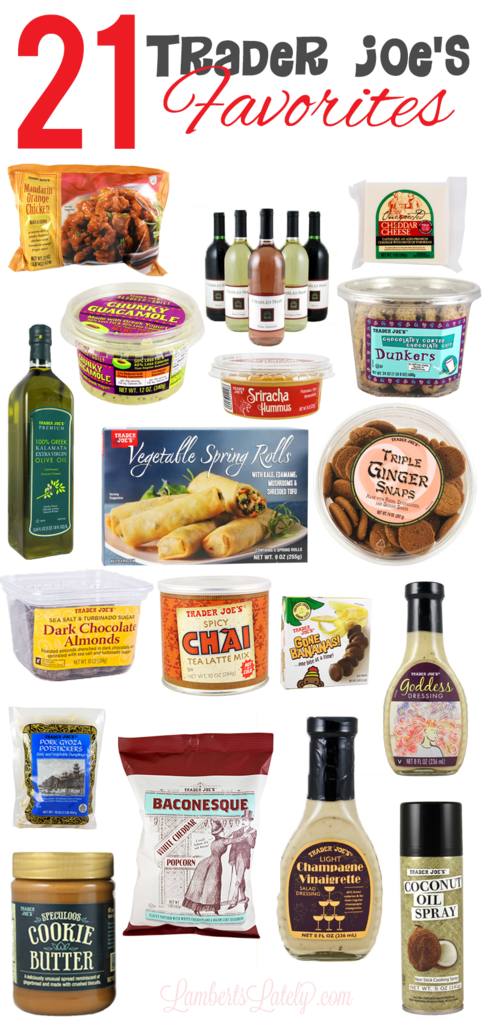 READY TO ORGANIZE A HOME YOU'LL LOVE?
Subscribe to the Lamberts Lately newsletter for the latest from the blog. You'll also get access to the newsletter-exclusive printable collection, full of home organization printables!