Alright – raise your hand if you have a mom that's impossible to shop for.
Here's the deal (and this really speaks to how great of a mom and a mother-in-law I have)…neither one of them ever tell us what they want. Like, ever. If we get them a gift card or money to shop for themselves, they go spend it on us or their grandkids. Every. Single. Time.
So, I've had to start thinking a little outside of the box when it comes to Mother's Day Gifts. And, if you have a mom/MIL that's difficult to shop for like the ones in my life, this list might help you too!

(Affiliate links used in this post.)
Ideas for the Food & Drink Lover
1. Personalized Recipe Book
2. Instant Pot
3. Colored Knife Set
4. Pasta Maker
5. Emoji Wine Glasses
6. Single Keurig
7. Sous Vide Circulator
8. Collapsible Cake Carrier
9. Electric Tea Kettle
10. Himalayan Salt Cooking Tile
11. Cocktail Recipe Glass
12. Wine and Cheese Tote
13. 3-in-1 Avocado Tool
14. Fondue Set
Ideas for the Outdoors Lover
15. Drink Spike
16. Garden Genie Gloves
17. Zero Gravity Chairs
18. Groables Set
19. Sunhat
20. Succulent Terrarium Necklace
21. Fun Pool Float
22. Garden Kneeler
23. Waterproof Rock Speakers
24. 12pc Picnic Set
25. Cooler Station
26. Custom Garden Sign
27. Aqua Globes
28. Handmade Bottle Chime
29. Floating Wine Glass
Ideas for the Athlete
30. Fitbit Alta
31. Swim Kit
32. S'Well Bottle
33. Running Socks
34. Yoga Mat
35. Wunder Unders
36. Dumbell Set
37. Bluetooth Headphones
38. Yoga Block
39. Sport Headbands
40. Nike Speed Rope
41. Blender Bottle
Ideas for the Artist
42. Adult Coloring Book
43. Sewing Machine
44. Paint Brush Set
45. Cricut Starter Kit
46. Cross Stitch Kit
47. Pottery Wheel
48. Creativity Set
49. Colored Pencil Travel Case
50. Bible Journaling Kit
51. Calligraphy Set
Ideas for the Beauty Guru
52. Drybar Dirty Martini Set
53. Girl's Night Kit
54. St. Tropez Starter Set
55. Drunk Elephant Nightbright
56. Pretty In Pink Nail Set
57. Hand Repair Gift Set
58. invisibobble
59. Naked Palette
60. Macaron Bath Bombs
61. Amazing Grace Set
62. Clarisonic Mia
63. Drybar Texas Tease Set
Ideas for the Homemaker
64. Momster Pillow
65. Personalized Dish Towels
66. Essential Oils Set
67. Journey to Clean cleaning printable ebook (shameless plug ?)
68. Ultimate Homemaking Bundle (only available until Monday, May 1st!)
69. Scented Wax Melts (these are my favorite!)
70. Personalized Apron
71. Wonder Woman Gift Magnets
72. Amazon Tap
73. Peruvian Lillies
74. Diptyque Candle
75. Framed Picture (of you and her!)
76. Bath Tray
Ideas for the Fashionista
77. Towel Wrap
78. Ugg Slippers
79. Rainn Leather Tote
80. Swim Cover-Up
81. Tory Burch Reversible Leather Belt
82. Retro Sunglasses
83. Baublebar Summer Drop Earrings
84. Ray Ban Aviators
85. Wristlet
86. Elise Pendant Necklace
87. Pajamas
88. Silicone Teething Necklace
Ideas for the Mom's Mom
89. Mom Coupons
90. Long Distance Keychain
91. Coffee Mug
92. Mom T-shirt
93. The Whole Brain Child
94. Handprint Pot Holder
95. More Time Moms Family Organizer
96. "What I Love About Mom" Journal
97. Mom Pillow Cover
98. Stackable Name Rings
99. Mason Jar Vase
100. Mommy Trivia Card (I always love this!)
101. Mom/Kid Car Decal
Image from previous version of this post: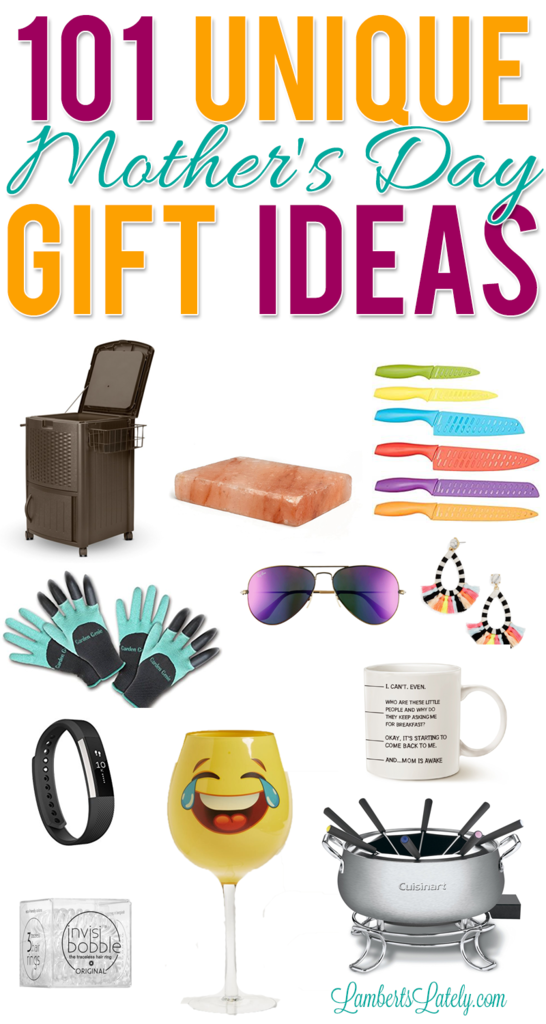 READY TO ORGANIZE A HOME YOU'LL LOVE?
Subscribe to the Lamberts Lately newsletter for the latest from the blog. You'll also get access to the newsletter-exclusive printable collection, full of home organization printables!